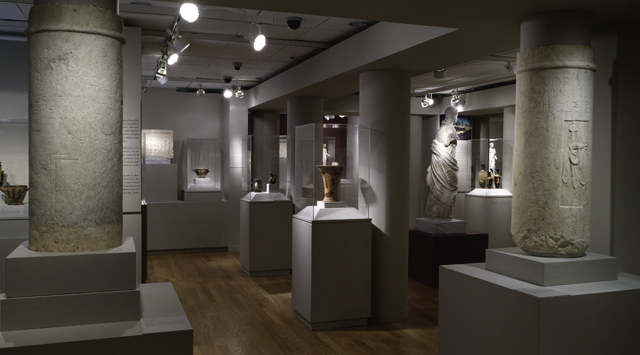 Contour Woodworks has been offering its services to the museum community since 1989.

Working closely with designers, curators, and conservators, we have absorbed the language of museum art display. It's a highly specialized form of woodworking, requiring a repertoire of materials and techniques not found in mainstream woodshops. Exhibiting precious objects in public places is serious business.

Each project can draw on our quarter century of experience and our 5000-square foot facility in the Hudson Valley, home to our collection of state-of-the-art equipment. Millwork, casework, acrylic, fabric, and metalwork are all part of the package.

Our goal for each commission is to produce beautiful, safe and secure display environments. That's how we support the arts.
close
American Numismatic Museum
Alexander Onassis Foundation Cultural Center
American Craft Museum
American Philosophical Society
Barnes Foundation
Boston College
Burberry
Colonial Williamsburg / DeWitt Wallace Museum
Columbia University
Corcoran Gallery
Fordham University
French & Co.
Frick Collection
Garibaldi-Meucci Museum
Grolier Club
International Paper
Jewish Museum Of New York
Josephine Macspeaker
Judaica Museum of HHA
Liberty Island

Metropolitan Museum of Art
Morgan Library
Museum of Natural History
Museum of the City of New York
Neustadt Collection of Tiffany glass
New Haven Amtrak Station
New York Botanical Garden
New York Public Library at 42nd Street
New York Transit Museum
New-York Historical Society
Poets House
Princeton University Art Museum
Rhode Island School of Design Museum of Art
Staten Island Children's Museum
SUNY Stony Brook
Temple Emanu-El
Tenement Museum Store
Yale Center for British Art
Yeshiva University Jewish History Museum
Zimmerli Art Museum - Rutgers
close
Contour Woodworks, Inc.



---


Proprietors
Anton Stayduhar, Tamara Block


PO Box 690
Bloomingburg NY 12721

Phone: 845 733 6285
Fax: 845 733 6286
Email: contour@frontiernet.net close